There have been so many wonderful layouts in my Half-n-Half gallery, that I have decided to create a slide show of them for those that only visit blogs. You won't BELIEVE what our wonderful readers have done! And most of them were done with only half the kit, or freebies. KUDOS, ladies!
fl_connie did this one, called Mommy and Me. I was so touched by it, I had to share it with everyone. For those that know me, you know my first love is heritage photos. And although I'm SURE connie's photo doesn't quite qualify as heritage - she's not that old! - it reminds us once again how important family photos are, and how treasured they will be for future generations.
Outstand job, Connie! THANK YOU!!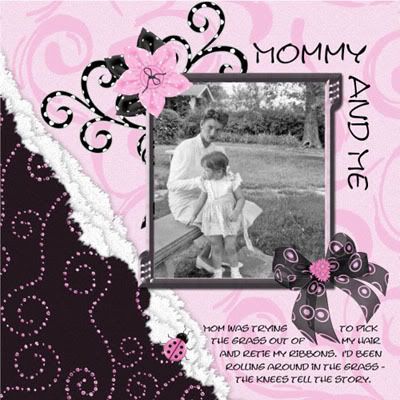 Linda and Dude tease me unmercifully about how early I go to bed. Yep..I'm one of those that my eyelids start drooping at 8 p.m. and my bed whispers my name. By 8:30 -it's yelling. LOL BUT... I am usually up at 3:30 a.m., and that is when I am most creative. After a couple cups of coffee, that is.
This morning was no exception. And lo and behold... Linda Walton's IM light was on! So..I took a chance and messaged her. She was hard at work on "Love Actually", and had been working all night!! Then, after wondering where the Dude was (Osten), I find out on HIS blog that he worked until 3 a.m. on his new kit!
And this got me to thinking. I wonder if scrappers know about the all-nighters and the many, many hours that go into creating a kit? Do they know how many papers and elements are created, and then tossed out because they just don't quite "go"? Do they know how many emails are sent saying "look at this and tell me what you think"? I'm a very, very new designer. But something tells me it will be a long, long time before I can create kit and not chew my fingernails or agonize over every detail.
Be that as it may, I also know that scrapkit designing is a labor of love. For me..for Linda..and for Osten. And I know I speak for many, many other designers as well. So, I just want to add a HUGE thank you to designers like Linda and Osten for their many sleepless nights and long hours creating the beautiful kits that grace our scrapbook pages. You guys RAWK!