I have had so many nice comments on my blog header, and now the kit used to make it is finally in the store! It's called "Serendipity" and has lots of cardboard bits and rich neutrals sparked with rose, blue, burgundy and green. I hope you like it! You can find Serendipity
HERE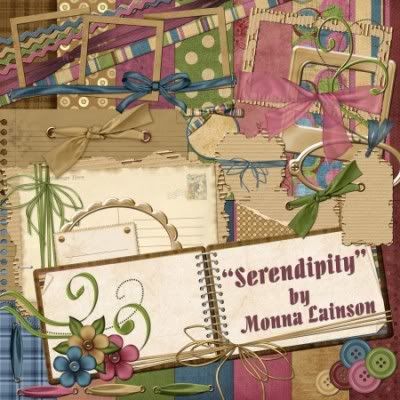 To celebrate the release of Serendipity, there WILL be coordinating freebies available ONLY here on my blog. Please keep checking back - I can't wait to share them with you!
I'm hoping to update by this weekend because it's gonna be a busy one for me. We have bought a new house! YES! We close on it this Friday, and so Saturday will find me painting closets, putting new shelf paper in the kitchen and all the other FUN things we do when we move. LOL We are very, very excited about our new home! Lots of work in store for us - moving is never fun, but thank goodness we have not one, but TWO big strong sons to help out. So if I'm a little absent in the next couple of weeks, you'll know why!
MORE exciting news! I was pleased and honored when Karen at 3Scrapateers asked to use Call Me Pink & Black for this week's Crop 'Em & Swap 'Em. This is such a FUN challenge! It works like this - you buy the featured kit if you don't already have it, create a scraplet (or quick page, whatever you want to call them), submit to the special gallery and at the end of the week, you get ALL the scraplets submitted! Voila! An instant brag book or album! You can find all the details
HERE
And as a special GIFT for posting your scraplets, I have created some more pieces that coordinate with Call Me Pink & Black. Take a peek at the ad - you will get the pretties featured in it! Remember - you can only get these by posting your scraplet to the challenge.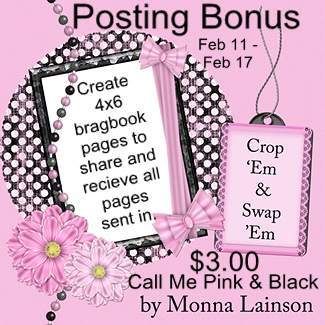 Call Me Pink & Black is on sale for $3.00 during this Crop 'Em & Swap 'Em week - you can find it
HERE
I got a frantic call from the Dude when I got home from work yesterday - he is encased in ICE (yikes!) and had no internet. So for those of you who showed up for his special monthly challenge last night and the Dude was not there, trust me...he was very distressed that the chat was to be cancelled, but there is no controlling Mother Nature! I know it was to be a FAB chat with lots of information and goodies, and the Dude and Bon worked hard on it. Let's hope it is rescheduled soon - you won't want to miss it!
I hope the rest of your week is WONDERFUL! Till later....
Monna