It's here! Dawn of Snowsmoon's Designs and I have a NEW collab available at onesingleseed.com! It's called Burst Of Spring, and it truly IS bursting with beautiful elements and papers to scrap all your springtime layouts! To celebrate our first adventure together, Burst of Spring is ON SALE for $2.00 until April 15th!
You can find it HERE I loved working with Dawn - WOW - what a TALENTED lady! heh heh, that gal has it all together, I tell ya! AND be sure to visit Snowsmoon's store at onesingleseed.com where she will be filling her store with ALL NEW, very exciting kits! YOU GO, girl!

Also, our FAB CT, Darlene aka Scrapee has not one, but TWO layouts in the running for Layout of the Month at One Single Seed. Please, while you are checking out Burst of Spring, stop by this thread and vote for your favorite. p.s. I like Layout #2 :)
















More exciting news! The Blog Train at DST starts today! Here is my contribution, and I hope you enjoy it! This one is HUGE, ladies and gents! At last count, over 90 designers have contributed this time, with hundreds of papers and elements. The train leaves the station at 12:00 PST, and since there are contributors from all over the WORLD, please allow 24 hours for all links to be active. You can read all about it here: http://www.blogtrainblog.blogspot.com/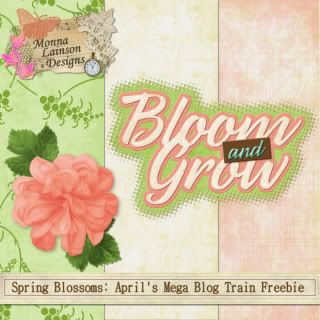 Download my portion HERE
And then hop on over to the NEXT stop on the Blog Train to: http://kalodesigns.com/wordpress/

Once again, please allow a little time for everyone to get their links active. And please, while downloading each portion, take a few seconds to say THANK YOU to the designers who contributed and are sharing their lovelies with the digiscrapping world!

That's all for me today - I'll be back with some layouts to share using Burst of Spring, and maybe some freebies to kick start your spring scrapping! Have a great day!