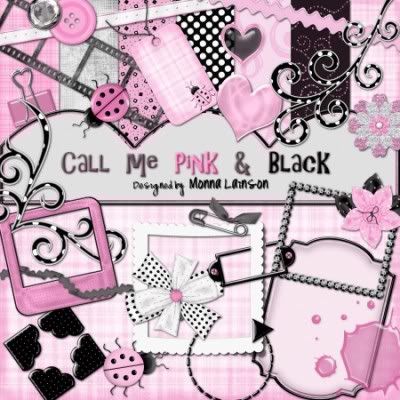 My Half-n-Half kit for January 29th debuts tonight on 3Scrapateers! I hope you'll join in the fun, and if you've never done a HnH kit, here's how it works.: Purchase one half of Call Me Pink and Black at a BARGAIN price of $2.00.
Post a layout to the special gallery, and I'll send you the OTHER half free! Plus..there is MORE! Join me at 9:00 p.m. CST in the 3Scrapateers Chat Room on January 29th, let's yak and have some fun, and I'll send out gifts that match the kit just for attending.
But WAIT..there is even MORE! I've made a special set of add-ons for the kit to help you get started, and you can grab them below! I'll be posting more information, such as links to the layout gallery in a few days. But for right now, start grabbing! And I hope to see you on the 29th!
Link Expired