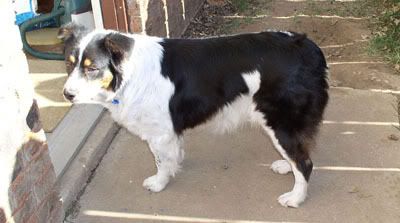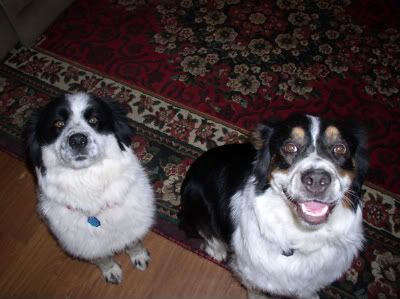 Wow - I'm just amazed at the progress these two girls are making! Izzy is now officially the love of my life. LOL She is my constant companion, always at my feet or by my side. It appears to me that everything an Aussie is, Izzy is DOUBLE it. I always knew JJ was smart, but I honestly think Izzy has her beat. Perhaps that is because she is young, and throughout the years I forgot how smart JJ was when she was a young dog. Izzy never takes her eyes off me, and watches every move I make. I think she would make a FABULOUS agility dog - so focused on me and what I want from her. When she plays in the backyard, she is POETRY in MOTION as she glides around at the speed of light!
Given that she lived her entire life in a kennel, she has learned so much in the past couple of months. She was never fearful, but confused by strange situations and people. Housebreaking was a breeze, leash training is coming along great (not her fault the weather has been so crappy that we don't have much practice time), she is actually now friends with one of the cats. This cat adored JJ, and is determined that Izzy is now going to be HER dog! Too funny.
She goes willingly to her crate when it's time for me to go to work - well, willingly for a little bite of cheese :) When I come home at lunch to give them potty breaks, or when I come home at night, she literally cannot stop WIGGLING for joy! She has a goofy nature, and laughs as only an Aussie can do.
I never thought I could love a dog as much as I do JJ. JJ will FOREVER be in my heart - I still burst into tears sometimes when I think of her. But I think Izzy is a gift to me - to heal my broken heart and to teach me even more about this incredible breed, the Australian Shepherd. Sometimes I wonder if I am doing her an injustice by making her my pet. She is so smart and so talented, I believe she could be a star with the right training. With me, she will live her life by my side, loved, enjoyed and adored. And she will grow old and fat, right along with me. LOL I hope it's enough.
Pearl is doing AMAZINGLY well! She is putting on weight and learning her place in our household. Eric simply ADORES that dog, and the feeling is mutual. I am trying hard to not bond with Pearl because she is supposed to be Eric's dog, which is okay with her. She prefers Eric! LOL Although we thought she was an Australian Shepherd mix, turns out she is Border Collie mixed with something that has COAT galore! She has a double coat - TONS of it. Haven't figured out what it is yet, but it really doesn't matter, does it? She's a wonderful little dog and we are thrilled that we found her. She is feeling good enough now that she plays with toys, throws balls up in the air and LEAPS to catch them with her front paws. She is SO cute!
On a sadder note, we have lost our 15 year old Red Heeler. Abby, you were a good dog. We adopted you 10 years ago after the Oklahoma City tornado, where you lost your previous people. You were on Death Row in the Yukon animal shelter. Pets For People rescued you, and we adopted you one Sunday afternoon in January for Eric's youngest son, Tristan. I will never forget your big, liquid brown eyes. You were such a sweet girl, and you taught everyone around you, humans and animals, many valuable lessons. I love you, Abbygirl. Rest in peace, tell JJ hi for me, and I will see you again someday. It's a promise.
Haven't gotten much scrapping done this week as Eric and I had a stomach virus that lasted ALL week. Man, it's a rough one and I sure hope all of you miss it. Hopefully, I'll be back soon with some goodies for you!